​2021 Detox & Purification Challenge
Thursday January 21st at 7:00pm

2020 is finally in the past! Now it's time to kick off 2021 with the best start possible. 

Especially this past year, we have been exposed to toxins galore! In addition to the toxins we're routinely exposed to, we now have disinfectants, cleaning products and hand sanitizers being used everywhere we go. If our bodies are unable to efficiently clear toxins, we STORE them. No one needs that kind of baggage. 

The excess storage of toxins leads to a wide range of symptoms including headaches, fatigue, weight gain, brain fog, decreased libido, difficulty sleeping, indigestion, joint discomfort and more. Experience with us how good it feels to have a fresh start!

Join us this Thursday as we discuss hidden sources of toxins, how that affects the body, and how you can safely and effectively reduce them.  After detoxing, people often report feeling improved energy, better sleep, clearer skin, sharper thinking, less pain, and even weight loss.

To join us on Thursday, simply click the registration link below and we will email you the link to join; we'll meet on Zoom but you do NOT need the app to join us! We look forward to sharing more about toxins and how to join the challenge with ongoing support from our office as well as other patients across the nation. It's always easiest when you're not alone, so feel free to invite an accountability partner but if you don't have one, you'll have lots of support from us! 

If you're unable to attend but want to learn more, visit www.standardprocess.com/challenge21.  Participants can join the challenge all the way up until January 25th, but be sure to consult with us before you start! Click Here to Register for Thursday Jan 21st at 7pm (no Zoom account needed) Not sure if a Detox or Purification Program is right for you? Complete the Toxicity Questionnaire below to find out if you're likely to benefit from such a program.  TOXICITY QUESTIONNAIRE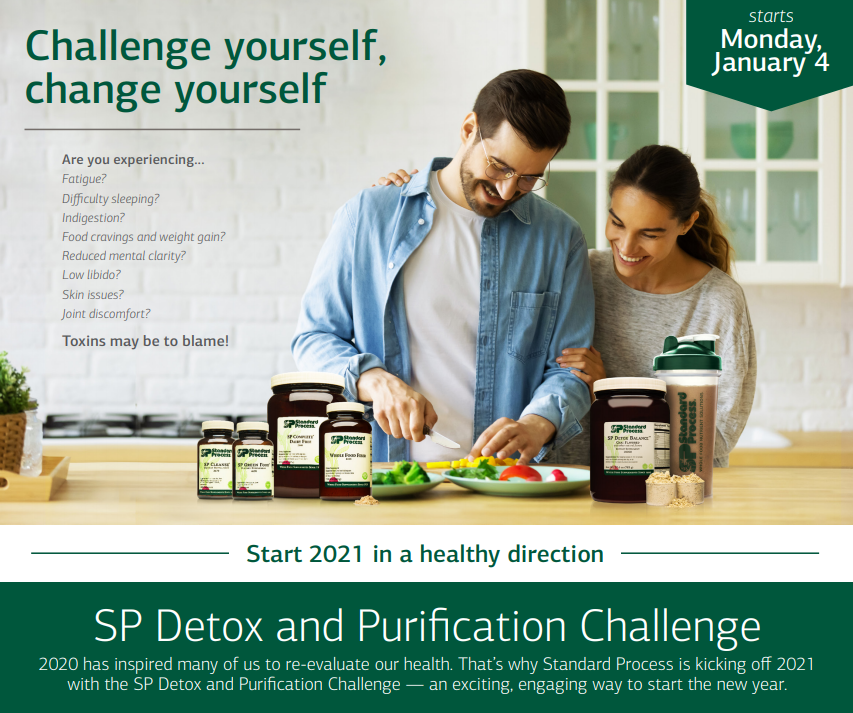 *These statements have not been evaluated by the Food and Drug Administration. These products are not intended to diagnose, treat, cure, or prevent any disease.